Anti-Slavery in Warrington
The antislavery movement developed early in Warrington and despite the town's proximity to Manchester it forged its own connections with antislavery activists in America who made the town an major stop in terms of delivering their anti-slavery message.     
Moses Roper (1815 – 1891) was born in North Carolina, the son of a white farmer named Henry Roper and a slave of African American and Native American descent named Nancy. Roper escaped captivity in 1834 and the following year he fled to England where slavery had been abolished 2 years earlier.
In England Moses met with key abolitionists who helped him to gain admission to various schools and universities so that Roper could then write the story of his life as a slave in his own words. The resulting autobiographical tale, entitled 'A Narrative of the Adventures and Escape of Moses Roper from American Slavery' (1838) was one of the earliest accounts of slavery in America to reach Britain and shocked English society with its reports of torture and humiliation. For several years Moses toured the country spreading the word of the horrors of American slavery and we know he visited Warrington in 1838 because in the archive collection we have a copy of his 'Narrative' dedicated by the author to local philanthropist Thomas Glazebrook Rylands in his home in Bewsey House dated March 30th 1838.
Moses Roper was not the only former anti-slavery activist to have met with Thomas Glazebrook Rylands. We know that Frederick Douglass (1818 – 1895) also stayed at Thomas's house in Warrington during his tour of England in 1846.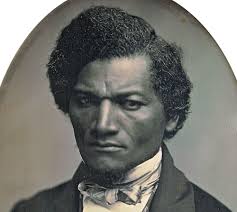 Born into slavery in Maryland, Frederick escaped in 1838 and fled to Massachusetts where, in 1845, he published his work A Narrative of the Life of Frederick Douglass, An American Slave (1845). This recounts the harsh and often brutal life Frederick suffered as a slave, his early glimpses of education and his escape to freedom. Frederick credited much of his early political thinking to having read 'Dialogue between a Master and Slave' (1796) by Warrington authors Letitia Barbauld and her brother John Aikin. Frederick had read this Warrington pamphlet on the rights of slaves to fight for their independence and furthermore he had read this whilst he was still a slave when reading or writing was forbidden and the punishment for doing either was severe.
Shortly after publication Frederick travelled to Ireland in 1845 and from there to England in 1846 where he lectured on the abolitionist cause at the Mechanics Institute in Warrington twice within the space of a year. Following the American Civil War Douglass became a prominent figure in American politics and fought for the rights of many minority groups, but particularly for those of African Americans and women.
Sarah Parker Remond (1826– 1894) was born in Massachusetts and became known as an international activist for human rights and women's suffrage. She delivered her first speech against slavery at the age of 16 and went on to deliver speeches against slavery throughout the Northeast United States. It was during one of these tours in 1858 that she encountered the Warrington postmaster and anti-slavery campaigner William Robson in Boston.
Even by the 1850s there was strong opposition to slavery from some quarters in Warrington, resulting in the formation of The Warrington Anti-Slavery Society. Reverend Philip Pearsall Carpenter, minister of Cairo Street Chapel from 1846 to 1858, travelled to the Southern states of America to see the conditions of slaves for himself.  In 1859 he visited the Southern states of the USA and defied the threat of being tarred and feathered to lecture against slavery. Mrs Gaskell and Carpenter's eldest sister, Susan were amongst Warrington women involved in supporting the anti-slavery cause.  They regularly sent contributions to the Annual anti-slavery fair (or Bazaar) in Boston, USA.
William Robson was instrumental in persuading Remond to travel to England via Warrington to gather support for the abolitionist cause in the United States. Her ship arrived in Liverpool on January 12, 1859. It had not been an easy journey, the ship had been covered with ice and snow and Remond had become so seasick that she had to regain her strength with a few days of recuperation in William Robson's home in Warrington.
Many sources state that Sarah Remond's first lecture in Britain was actually given in Warrington but her very first British lecture – on 21st January 1859 – was given at the Tuckerman Institute in Liverpool. The Warrington lectures were, however, intended to be the inaugural speeches of the tour and the first one was held on the 24th January 1859 at Warrington Music Hall.
Remond's first Warrington speech was free to enter and it was so well attended there was standing room only – several notable people were unable to get in. The meeting was presided over by Robert Gaskell, secretary of the Warrington Anti-Slavery Society Contemporary accounts described the meeting as the best attended public event in the town's history, with an audience composed mostly of working people.
After the success of the first meeting a second one was arranged, again at the Warrington Music Hall, for 31st January 1859. There was a small charge for this meeting, which solved the overcrowding of the first one. One contemporary account notes that during this lecture a Mr William North, an ex-slave from South Carolina now living in nearby Earlestown was also on the platform with Remond, though he does not seem to have spoken.
A third lecture was given on 2nd February at a luncheon meeting of women in the assembly room of the Red Lion Hotel, this was a brief talk as Remond was feeling unwell. After the speech Mrs Ashton, a local abolitionist, made a speech in which she "felt proud to acknowledge her as a sister" and presented her with a watch inscribed "Presented to S.P. Remond by Englishwomen, her sisters, in Warrington. February 2nd, 1860".
Sarah Remond responded emotionally:
"I do not need this testimonial. I have been received here as a sister by white women for the first time in my life. I have been removed from the degradation which overhangs all persons of my complexion; and I have felt most deeply that since I have been in Warrington and in England that I have received a sympathy I never was offered before. I have therefore no need of this testimonial of sympathy, but I receive it as the representative of my race with pleasure. In this spirit I accept it, and I believe I shall be faithful to that race now and forever."
In addition to raising a donation of one hundred dollars for the American Anti-Slavery Society Remond's Warrington lectures rekindled local anti-slavery sentiment and encouraged a record number of 3,522 local residents – including politicians and clergy – to sign a petition against American slavery.  William Robson himself wrote "I may add that no address on any subject has ever been more numerously signed in this town".
The outbreak of the American Civil War a few years later did not affect Warrington as dramatically as Manchester but the message was the same from the workers of Warrington – one of solidarity with those enslaved and the campaign to abolish slavery. Abolitionism in Warrington was now deeply embedded in local politics.
The museum would like to thank former volunteer Kirsty Fitzpatrick for her assistance in compiling these notes.