Empty the larder and preheat the oven!
10th – 19th September is Heritage Open Days Festival and this year's theme is 'Edible England' – so empty the larder, preheat the oven, and set the table as we explore the past, present, and future of our culinary heritage and culture!
As the main museum is currently closed to the public we thought we'd bring the collections to you. This little tour of the galleries will showcase some of the museum objects with an 'edible' connection – although admittedly in some cases this connection is quite loose!
So, what collections in Warrington Museum & Art Gallery are edible? Surely the museum doesn't contain food? Well, our museum pests certainly see our collections as a quick snack (albeit only a few, thankfully), but there are many more 'culinary' related objects in the Museum and Archives. In this blog, we are going to look at a few examples of some of these objects and hopefully delve into their fascinating histories – essentially, we're going to take you on an 'Edible England' tour of Warrington Museum and Archives!
Our tour begins in our World Stories gallery with a fragment of painted coffin from Upper Egypt which is around 2,400 years old. It shows a mummy on a couch, flanked by tables laden with offerings of food and drink.
Fragment of Ancient Egyptian wooden coffin (404-343 BC)
The reason for choosing this item to begin our tour is that it features a depiction of food and drink in Ancient Egypt. To the Ancient Egyptians food wasn't just for eating – it was an offering to the gods. We can see this in the wooden stela below which shows food and drink being offered to the god Ra. In fact, the Ancient Egyptians mummified food as well as people, stocking tombs with joints of meat wrapped in bandages and covered in balm to ensure continued comfort and happiness after death. The most luxurious post mortem meals in Ancient Egypt were mummified beef ribs! These delicacies wrapped in bandages, and dated between 1386 and 1349 BC were found in the tomb of Yuya and Tjuiu – the parents of Queen Tiye, the wife of Pharaoh Amenhotep III.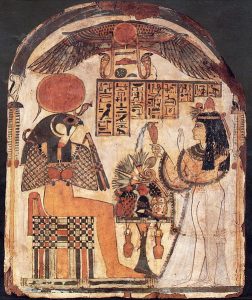 Ancient Egyptian wooden stela depicting Lady Djedkhonsuiwesankh giving offerings of food, drink, and flowers to Re-Horakhty (950–700 BC) (Photograph by Oriental Institute, the University of Chicago) (Wikimedia-Public Domain)
Moving on into gallery 2 – the Warrington's Story gallery – we see some Roman iron knives recovered from the Wilderspool site during Dr Kendrick's excavations in 1895-1898. The Romans carried knives for various purposes – such as shaving and whittling – but knives of all sizes were also used in cooking, and these were generally made from iron with either bone, wood or bronze handles.
Roman iron knives
Travelling through the galleries we come to our Large Art Gallery, where a selection of the museum's Fine Art Collection can be seen on display. The artist Thomas Hesketh (1882-1911) features a number of times in the collections with his local scenes capturing everyday life in Warrington. In one of his paintings titled 'Warrington Market, Cheshire' painted in 1907, we see some of the means by which food was transported, packaged and displayed for sale at town markets in the Edwardian era.
Many markets had open food stalls, which would not be seen as particularly hygienic today, but it allowed customers to see their potential purchases close and even handle them. As today food was packaged and sold by weight, but in the early 20th century your fruit and vegetables would come in a sack or paper bag having been brought to market on a horse and cart.
'Warrington Market, Cheshire' by Thomas Hesketh (1907)
On into our Time Tunnel gallery, we are met with an array of objects from a wide span of history. One of the highlights of this gallery is the 1950s kitchen within which we see a selection of old-fashioned cooking utensils and appliances used during food preparation. 70 years ago many of the processes which are now mechanised were carried out by hand. One of my favourite items within this gallery is the metal rabbit mould, which would have been used for the production of jellies and other sweet desserts.
Moving into our Geology gallery in our central cases we can see a specimen of what is named 'Bacon Stone'. As I'm sure you're aware this is not actually made from bacon! It derives its name from its visual appearance being like a rasher of bacon and in fact it was originally part of a stalactite from Bristol.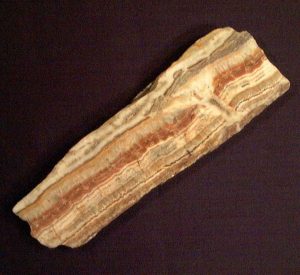 Bacon stone RMR.569
There is a similar and distinctive stalactite of Bacon stone the Victorians called "The Flitch of Bacon" at Poole's Cavern in Buxton.  For many years people assumed that the tip of the stalactite had been lost to early vandals, but by sheer chance, it was discovered lying in the bushes at the cave mouth and is now displayed in the museum at the entrance to Poole's cavern.
So now we go up the stairs to our middle floor on which the Cabinet of Curiosities gallery is sited. This gallery is a feast for the eyes, but for me personally, I am always drawn to an object that not only addresses my love of tea but is also rather quirky … and that is a teapot shaped like a cauliflower!
Teapot in the form of a cauliflower
As we've all learned over the past 18 months, nature is an integral part to the quality of our lives and wellbeing, but in the 1750s the potter Josiah Wedgewood also took inspiration from the natural world and this then went on to inspire future craftspeople.
This Cauliflower Ware Teapot is made from earthenware which has been modelled and moulded to echo the delicate leaves of a cauliflower and then glazed a vivid green. Wedgewood assigned the task of potting and modelling the majority of these natural forms to the Staffordshire potter William Greatbach who created a variety of shaped like cauliflowers as well as pots shaped like lettuce and pineapples, all of which were returned to Wedgewood for glazing.
Travelling up to the museum's top floor we find the Botany gallery. Those of you who have been fortunate enough to explore our Botany Gallery will know that a significant number of the specimens were donated by Kew Gardens, London. In total 424 objects were dispatched to Warrington to form the basis of our economic Botany collection – covering the subject of "the plant as food" and "the plant as beverage"! In the late 19th century and early 20th century the curators at Warrington approached Kew with a number of requests for specific exhibits including specimens of maize and rice "in the ear, with the leaves complete", for an exhibit of bread substitutes as part of a food economy exhibition during the First World War.
"Food economy" was an active movement in Britain in the early twentieth century, aimed at combatting 'undernutrition' amongst the working classes, and at lessening Britain's dependence on imports.  The "most interesting and instructive" Food Economy Exhibition for which the curators at Warrington required specimens from Kew was mounted to coincide with a cookery demonstration in Warrington by Florence Petty "the Pudding Lady", which was organised by the National War Savings Committee and attracted an audience of 1,000.
The Pudding Lady: a new departure in social work (Warrington Archives)
Directly across the landing from the Botany gallery is our Fish gallery, in which you will find a piece of contemporary artwork called "Canned Tuna". This large representation of a tuna fish was created by artist Val Hunt from recylced drinks cans. It's a very popular object in the museum collection as it's so bold and fun, but it also resonates with so many visitors owing to the fact that many of us consume large qualities of tuna fish – in either fresh, frozen or tinned form.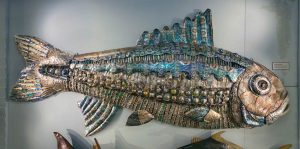 Canned Tuna by Val Hunt made from recycled drinks cans
"Canned Tuna" also highlights current concerns about the overfishing of this particular species of fish. Tuna are critical to both commercial and recreational fisheries but high demand for the fish which is integral to the diet of millions of people (it is currently fished in over 70 countries) has left many stocks exploited-or overfished. Methods of catching this extraordinary marine animal have developed over time but unfortunately the conservation and management of this species has not evolved as quickly. For instance, the Blue Fin Tuna depicted in this artwork (1% of the global catch) is now critically endangered.
On exiting the Fish Gallery, we enter our 'Warrington Story (Part II)' gallery, which follows on from the room directly below but takes a closer look at the industrial and social history of the town. We all know how important the brewing industry was to Warrington in providing employment for local people and also putting Warrington on the map as a place at the heart of a manufacturing centre.
The Wilderspool Brewery of Greenall Whitley & Company was, as the name suggests, located on Wilderspool Causeway just south of the town centre. The site was first acquired in 1787 and operated as a brewery for almost 200 years until 1990 when the company closed its breweries at Warrington to become a pub chain.
Beer mat for Bullseye Brown Ale produced by Greenall Whitley
So now we move outside of the main museum and travel downstairs to the Archives and Local Studies Department which is located within Central Library. The Archive collection houses an amazing collection of First and Second World War posters, which some of you may have seen on display as part of our First World War centenary commemorations between 2014 and 2018. To finish this little tour, I've selected a very bold yet effective poster promoting food control during the First World War.
First World War Food Control Poster
Most people associate rationing with the Second World War but this Food Controller Poster No.22 from 1917 signifies the need for people to self-ration during the wheat shortages that occurred in the UK during the First World War. With many farmers serving at the front and fewer ships getting into Britain due to the German U-boat campaign in 1917 modest consumption was promoted through "food control" campaigns. Eventually rationing was brought in and people were restricted to 4lb of bread per week.
We hope that you have enjoyed our short tour and that it has brought some of the wonderful edible heritage collections at Warrington Museum closer! Have a fantastic Heritage Open Days Festival 2021 and we hope to see you at the museum soon!